Frost & Sullivan's top research analysts conducted an analysis of the North American in-vehicle mobile commerce platform market and awarded P97 with the 2018 North American Technology Innovation Award. Every year, Frost & Sullivan presents this award to the company with a developed product that not only has cutting-edge features and functionality, but also is obtaining high-speed acceptance in their market.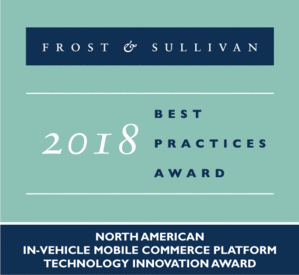 P97's Award presented by Frost & Sullivan
Why P97 Was Frost & Sullivan's #1 Choice
Frost & Sullivan's industry analysts were thorough when analyzing P97 and their competitors. They conduct their analysis in a variety of regional and global markets. The analysts look for companies who demonstrate superior performance and outstanding achievements in; customer service, technological innovation, strategic product development, and leadership. Dorothy Amy, Senior Research Analyst at Frost & Sullivan, noted that P97 was second to none in the mobile commerce market.
"P97's mobile commerce platform, PetroZone, is a cloud-based software-as-a-service (SaaS) offering that helps consumers find, buy and save on fuel through their mobile phones or vehicle infotainment systems before reaching the gas station," Amy said. "Through this groundbreaking model, oil companies gain direct access to consumers when they make a purchase decision."
How Frost & Sullivan Believes P97 Will Lead the Future
P97 plans to continually innovate the mobile commerce market through unique and secure payment services for their consumers. Frost & Sullivan is sure that P97 will further strengthen its competitive position in the market.
"P97 distinguishes itself from the competition through its uniquely secure and scalable architecture that is designed to support payments across multiple apps, payment processors, wallets, POS, loyalty partners and other value chain participants," Amy said. "P97 strictly adheres to data protection laws and prioritizes protecting consumers' personally identifiable information (PII)." Amy said. "These exceptional benefits and business strategies ensure that P97's technologies are scalable and future ready."
Where to Find More On Frost & Sullivan
For more information on Frost & Sullivan, visit their website at https://ww2.frost.com or follow them on Twitter @Frost_Sullivan. To read the press release on P97's award, click here.
More Info on P97's Award from Frost & Sullivan
Download the full report on P97's award here