In anticipation of the launch of their new mobile commerce platform, fuel brands Phillips 66®, Conoco® and 76® debuted their "Mobile Connect Experience" yesterday at the ARIA Resort and Casino in Las Vegas during Phillip 66's Momentum: Driven by Excellence conference.
The "Mobile Connect Experience" is driven by P97's PetroZone®, a mobile commerce solution Phillips 66 announced last year in collaboration with Chase Pay. The new platform will connect retail fueling consumers to Phillips 66, Conoco, and 76 locations through a mobile app using a dynamic station finder, enabling a mobile payment wallet and delivering contextual commerce digital offers.
Phillips 66's GM of Marketing Services Rod Palmer expanded on the new offering in a session with customers, telling them that "We designed our mobile solution to build on top of technology you should already have at your store, and unlike some of our competitors, our offering doesn't just work at the pump, but inside the store as well. It's designed to work for all of your business."
The "Mobile Connect Experience" includes previews of mobile integrations with Synchrony Financial, a new branded mobile debit product, loyalty points facilitated by KickBack Rewards System and an in-vehicle payment demonstration with Honda Developer Studio that allows consumers to purchase fuel from the infotainment unit of their car.
"A company with the innovative spirit of Phillips 66 helps move the entire retail fueling industry forward," said Donald Frieden, founder and CEO of P97. "P97 is working with Phillips 66 to integrate existing technologies such as their proprietary credit and loyalty programs into a comprehensive mobile commerce platform, creating a seamless commerce experience for consumers."
Phillips 66 is currently testing mobile commerce connected sites in the Texas and Oklahoma regions, with a nationwide rollout planned for 2017 into 2018.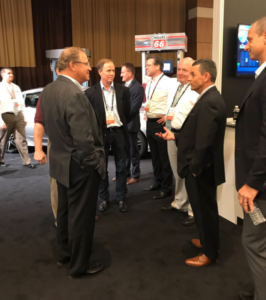 P97 CEO Don Frieden demos the new mobile commerce app to Phillips 66 CEO Greg Garland
About U.S. Marketing at Phillips 66
Phillips 66 is a diversified energy manufacturing and logistics company. With a portfolio of Midstream, Chemicals, Refining, and Marketing and Specialties businesses, the company processes, transports, stores and markets fuels and products globally. Headquartered in Houston, the company has 14,600 employees committed to safety and operating excellence. Using a network of branded marketers and dealers operating approximately 7,500 outlets, its U.S. Marketing business supplies TOP TIER® Detergent Gasolines under the Phillips 66®, 76® and Conoco® brands. For more information about Phillips 66, visit www.phillips66.com or follow us on Twitter @Phillips66Co. For more information about the company's U.S. fuel brands, visit Phillips 66's U.S. Consumer Brands webpage.
About P97
P97 Networks provides secure cloud based mobile commerce and digital marketing solutions for the convenience retail and fuels marketing industry under the brand name PetroZone®. P97's mCommerce solutions enhance the ability of convenience store operators, marketers, and oil companies to attract and retain customers by providing technology that securely connects millions of individual mobile phones and connected cars with identity and geo-location based software technology to create truly unique connected-consumer experiences. P97's software personalizes the "find-buy-save" experience for every mobile consumer. For more information follow us on Twitter @p97networks or visit www.p97.com.